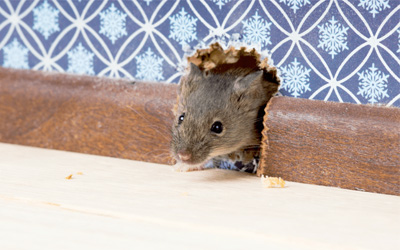 Did you ever think, how do rat and mice come into your home? Actually, there are numerous ways for rodents to visit your home as they don't require an invitation. They can come directly from door, window, roof, drainage system, cables and tiny holes from your home. During winter, rodents want warmth place, this is why they like to make room in your home1.
Where there is food, the rodents will be attracted for sure. So, there is no surprise, if you detect the rodents in your home. After all, your home could provide them with food and a place to live. The worst thing about the rodents is their impact on your living style.
There are four main destructive effects of rodents
Chew The Material

Rodents like to chew the papers, cardboard, fabric, wires, and old books/magazines. It could be your personal important material that can be damaged by the rodents. Thus, all your important papers are converted into the garbage.

Spoil The Food

Rodent's teeth are so sharp that they can easily chew the food packaging. Moreover, they are fast to run and pass through the food items. Unknowingly, if you eat or drink anything contaminated by rodent feces, you may cause salmonellae, diarrhea, fever or food poisoning.

Deliver Odor

Rodent likes to hide their self where you less used to go such as storeroom. Rodent releases their feces and urine which later cause the bad odor in your home. You can lower the odor by spraying the room freshener, but it can't be controlled until you remove the rodents.

Breed

As the rodents are prolific breeders, they increase their population very fast. Within 4-7 weeks the little rodent become full grown up to adulthood and they start to perform their destructive attack to your belonging.
Before you could face too many rodents around you, it is suggested to call Tillsonburg Pest and hire the rodents removal specialist. Our licensed and insured pest exterminators offer a complete solution for pest infestation.